Springvale Roofshield, Roofshield V and Roofshield S are expanded polystyrene (EPS) boards (V & S types are factory bonded to perlite) for use on limited access flat roofs with suitably designed timber, concrete and metal structural decks in conjunction with a suitable fully supported waterproofing system.
Roofshield has been providing efficient and cost-effective solutions for insulating a variety of flat roof constructions for decades, making substantial contributions to reducing CO2 emissions and improved energy efficiency of buildings.
Springvale Roofshield is an expanded polystyrene rigid insulation board, available in a range of white EPS grades as flat or tapered boards, supplied pre-cut to the roof design layout to ensure efficient rainwater run-off.
Roofshield is available as either laminated or non-laminated insulation boards to receive a variety of waterproofing layers such as built up felt, mastic asphalt or single ply membranes. Roofshield boards are supplied in a single layer to reduce installation time and can be used in a variety of domestic, commercial or industrial flat or tapered roof applications including concrete deck, metal deck or timber board substrates.
The products are supplied in 3 grades, EPS 100E, EPS 150E and EPS 200E to meet a range of compressive strength requirements and have a Reaction to Fire Classification of Class E.
Providing excellent thermal insulation properties, Roofshield manufactured in a range of EPS grades and thicknesses allow a suitable range of U-values to be achieved and can be used in conjunction with other Springvale's product range to aid compliance with Approved Document Part L of the building regulations.
Download our technical data sheet for our Springvale Roofshield product.
Our BBA certificate is available for download, please click the direct link below.
Want to know more about ROOFSHIELD®
Get in touch with our office on 01457 863 211 or drop us an email and our technical team will get in touch.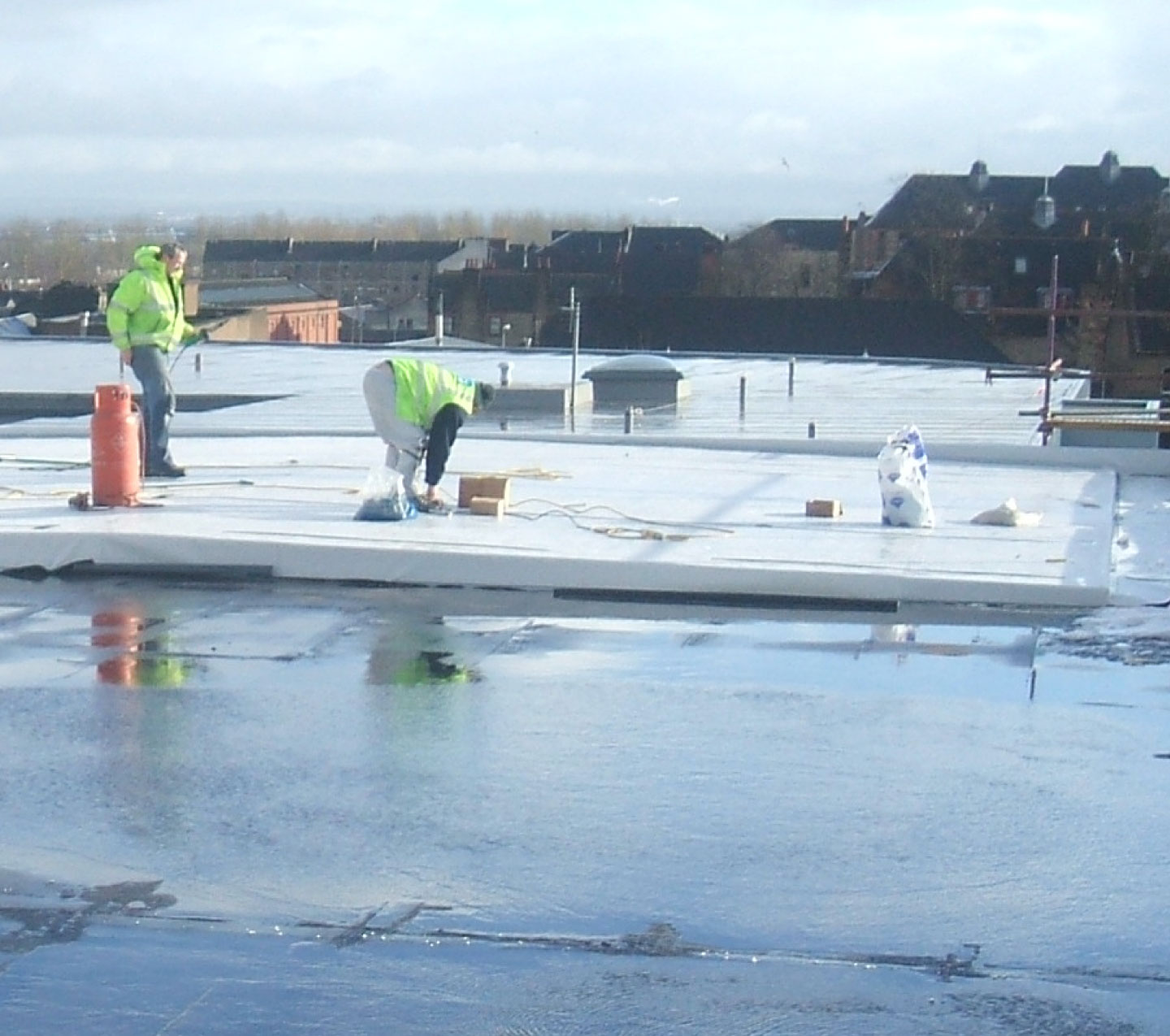 Example U Values for flat roofs
EPS Grade
Target U Value

W/m2K

Insulation thickness (mm)
Timber
Concrete
Metal
White EPS 100E
0.13
240
240
250
0.15
200
210
220
0.18
170
170
180
0.20
160
160
160
0.25
120
120
125
White EPS 150E
0.13
240
240
240
0.15
200
200
210
0.18
170
170
170
0.20
150
150
155
0.25
115
120
120
White EPS 200E

0.13
240
240
240
0.15
200
200
200
0.18
165
170
170
0.20
145
145
150
0.25
115
115
120
Perlite: λ = 0.052 W/mK
Reinforced bitumen membrane: : λ = 0.23 W/mK
Roofshield has been awarded BBA certificate No: 08/4529 Product Sheet 1. Click here to download the BBA certificate. The products are manufactured to the requirements of BS EN 13163, under an ISO 9001 certified quality management system.
The environmental integrity of Springvale Roofshield products is exceptional:
Zero ODP (Ozone Depletion Potential)
Low GWP (Global Warming Potential)
A+ BRE Green Guide rating for generic EPS products
CFC, HFC and HCFC free
Boards are 100% recyclable
Rot proof, dimensionally stable and when installed as per the BBA certificate will remain effective as an insulation material for the lifetime of the building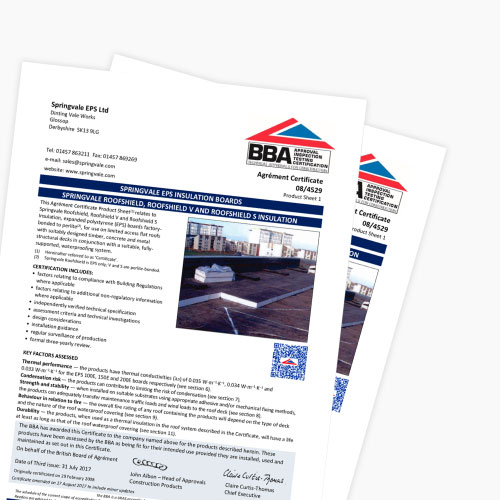 Roofshield BBA Certificate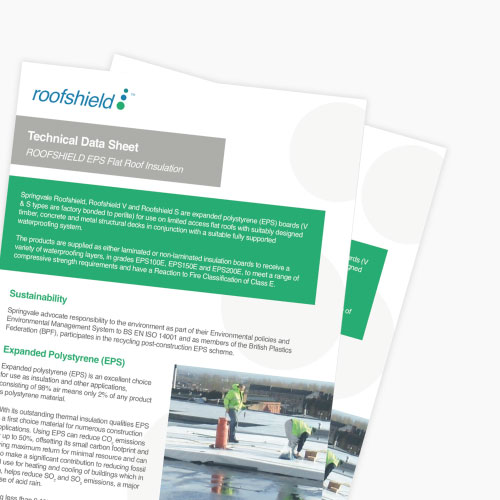 Roofshield Technical Data Sheet