Springvale Hydroshield for Inverted Roof Insulation uses expanded polystyrene (EPS) boards, a water reducing layer and ballast or paving protection for inverted flat un-trafficked roofs and balconies and terraced roofs subject to pedestrian access only.
The products are available in both uniform thickness and tapered board options and may be used with zero pitch and slopes between 1:80 and 1:6.
When used in conjunction with a suitable root barrier Hydroshield EPS300E may only be used in green roof applications.
The products are supplied in 2 grades, EPS 200E and EPS 300E to meet a range of compressive strength requirements and have a Reaction to Fire Classification of Class E.
Providing excellent thermal insulation properties, Hydroshield manufactured in a range of EPS grades and thicknesses allow a suitable range of U-values to be achieved and can be used in conjunction with other Springvale's product range to aid compliance with Approved Document Part L of the building regulations.
Benefiting from the excellent environmental aspects of EPS Hydroshield is quick to install with little waste and is supplied based on your bespoke roof design and U Value requirements.
Download our technical data sheet for our Springvale Hydroshield product.
Our BBA certificate is available for download, please click the direct link below.
Want to know more about HYDROSHIELD®
Get in touch with our office on 01457 863 211 or drop us an email and our technical team will get in touch.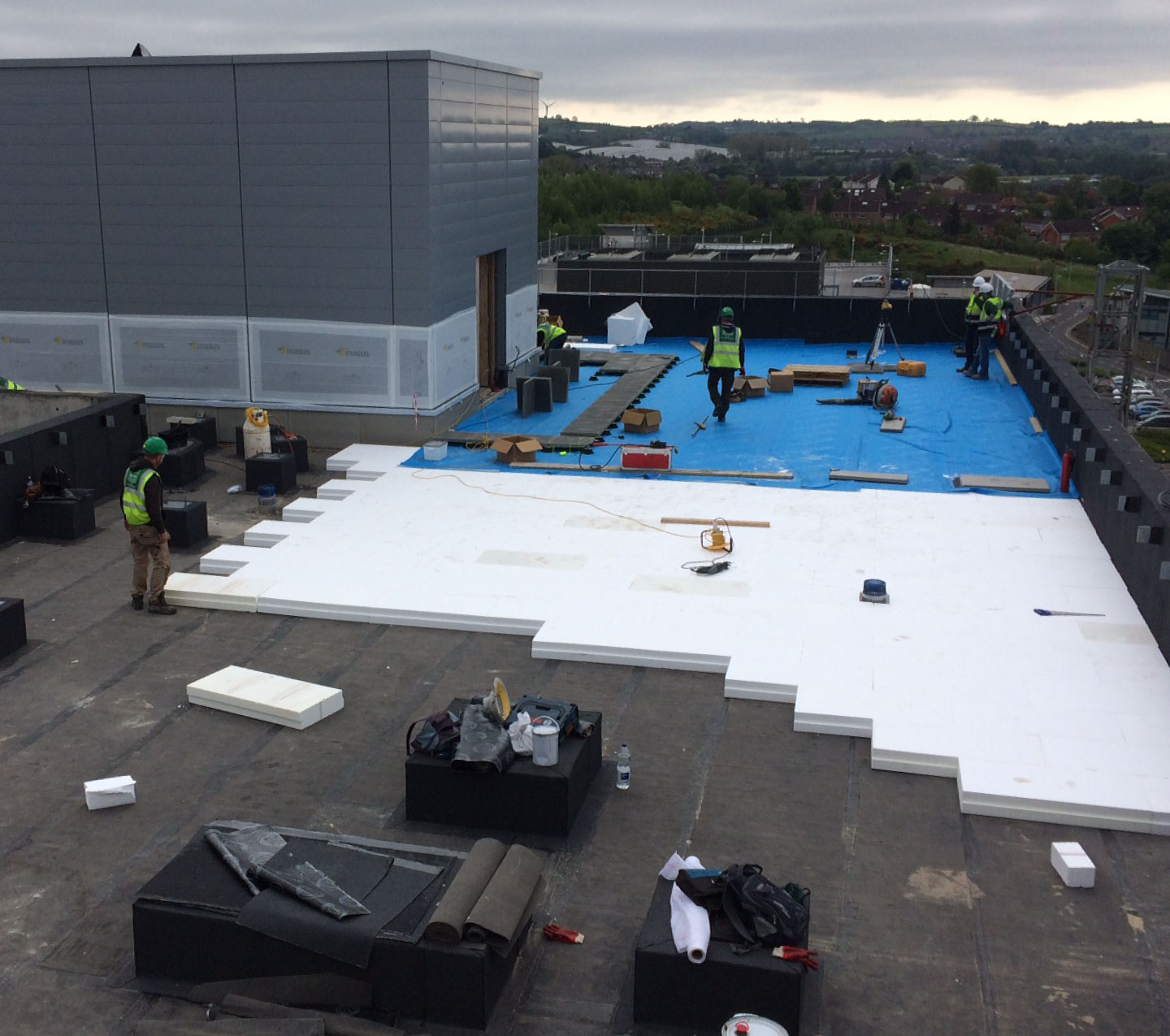 Grade

(BS EN 13163)

EPS200E
EPS300E

Thermal conductivity

(W/m·K)

0.033
0.033

Thermal conductivity

(W/m·K) including moisture

correction factor

0.038
0.038

Reaction to Fire

Board Size (mm)

Class E

1200 x 590 mm

Thickness (mm)
120, 150, 190,  200 to 350 mm
Hydroshield has been awarded BBA certificate No: 08/4529 Product Sheet 2. Click here to download the BBA certificate.. The products are manufactured to the requirements of BS EN 13163, under an ISO 9001 certified quality management system.
The environmental integrity of Springvale Hydroshield products is exceptional:
Zero ODP (Ozone Depletion Potential)
Low GWP (Global Warming Potential)
A+ BRE Green Guide rating for generic EPS products
CFC, HFC and HCFC free
Boards are 100% recyclable
Rot proof, dimensionally stable and when installed as per the BBA certificate will remain effective as an insulation material for the lifetime of the building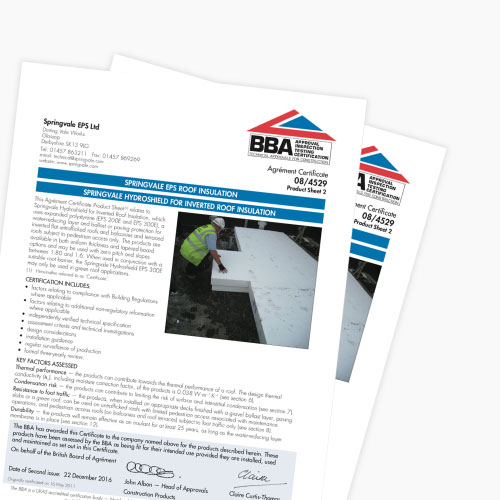 Hydroshield BBA Certificate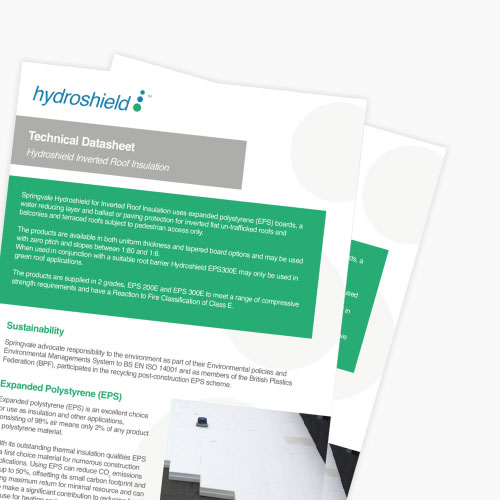 Hydroshield Technical Data Sheet