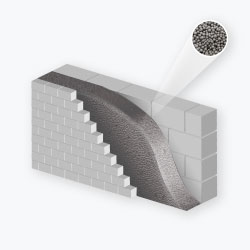 Blown EPS Bead Full Fill Cavity Wall Insulation
Ecobead Platinum is a high performance, blown bead EPS insulation system that can be used in masonry cavity wall constructions as a full fill insulation solution. Incredibly fast to install and with no waste, it is just as suitable for new build as it is for improving the thermal performance of existing buildings.
Want to know more about ECOBEAD® PLATINUM®
Get in touch with our office on 01457 863 211 or drop us an email and our technical team will get in touch.